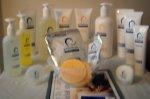 WELCOME TO THE HOME OF LUCY'S BEAUTIES MOBILE BEAUTY THERAPIST
LUCY IS A MOBILE BEAUTY THERAPIST AND MAKE-UP ARTIST PROVIDING PROFESSIONAL AND AFFORDABLE TREATMENTS IN THE COMFORT OF YOUR OWN HOME.
LUCY TRAINED IN BEAUTY THERAPY IN 1999 AT EXETER COLLEGE, AS WELL AS ATTENDING ON GOING TRAINING COURSES AND HAS WORKED IN BEAUTY SALONS AROUND THE LOCAL AREA UNTIL SHE FOUND A MARKET FOR THE MOBILE INDUSTRY WHEN SHE BEGAN LUCY'S BEAUTIES IN JANUARY 2008.
LUCY COVERS THE MID-DEVON AND EXETER AREAS AND WILL TRAVEL TO THE EAST DEVON AREA FOR BRIDAL PACKAGES, AND PAMPER PARTIES.
PLEASE NOTE THAT AREA'S OUTSIDE OF EXETER, MID AND EAST DEVON WILL INCUR A TRAVEL CHARGE OF 25P PER MILE AS CALCULATED BY THE AA ROUTE PLANNER
TO CONTACT LUCY PLEASE CALL/TEXT 07805176953 OR SEND AN
E MAIL AT LUCYS-BEAUTIES@HOTMAIL.CO.UK
LUCY OFFERS A COMPREHENSIVE RANGE OF TREATMENTS AND DESIGNS BRIDAL PACKAGES TAILOR MADE TO YOUR OWN SPECIFICATIONS TO SUIT EVERY STYLE AND BUDGET.
~ NEW TO LUCY'S BEAUTIES ARE HEN NIGHT PAMPER PARTIES, WHERE BRIDES TO BE CAN GATHER THEIR FRIENDS AND FAMILY FOR AN EVENING OF WONDERFUL FACIAL AND BODY TREATMENTS TO ENSURE THEY ARE ALL REFRESHED AND POLISHED FOR THE BIG DAY ~
LUCY IS A MEMBER OF THE ACCREDITED GUILD OF BEAUTY THERAPISTS, WITH WHOM ALSO HOLDS THEIR INSURANCE.
THE PRODUCTS THAT ARE USED FOR TREATMENTS ARE THE PRIADARA SKINCARE RANGE, THE CREATIVE NAIL DESIGN SPA RANGE, THE HEEL TO TOE PEDICURE RANGE, AND THE WAX MASTER SYSTEM,
LUCY HOLDS THE STATUS OF BEING A PRIADARA SKINCARE STOCKIST, AND A CREATIVE SPA STOCKIST.
~
~ GIFT VOUCHERS ARE ALWAYS AVAILABLE FOR TREATMENTS AND PRODUCTS STUCK FOR BIRTHDAY, ANNIVERSARY IDEAS, GIVE YOUR LOVED ONE A GIFT VOUCHER TO USE ON A RELAXING TREATMENT OF THEIR CHOICE ~
~
~ N.V.Q ~ I.H.B.C ~ C.I.B.T ~ A S E T ~ M.G.B.T ~
~ A MEMBER OF THE GUILD OF BEAUTY THERAPISTS
ALSO FIND US AT
www.wix.com/jazzybelle4/jazzybelles
WWW.PAMPERPARTIESDEVON.WEBS.COM
WWW.CHILDRENSPAMPERPARTIESEXETER.COM
<table width="133" border="0" cellspacing="0" cellpadding="3"><tr><td align="center"><a href="http://www.safariguideafrica.com/" target="_blank"><img src="http://www.website-hit-counters.com/cgi-bin/image.pl?URL=528598-6218" alt="safariguideafrica" title="safariguideafrica" border="0" ></a></td></tr><tr><td align="center"><font style="font-family: Geneva, Arial, Helvetica, sans-serif; font-size: 9px; color: #330006; text-decoration: none;"> <a href="http://www.safariguideafrica.com/" target="_blank" style="font-family: Geneva, Arial, Helvetica, sans-serif; font-size: 9px; color: #555556; text-decoration: none;" title="african safaris">african safaris</a> </font></td></tr></table>